What is PayGo?
PayGo is the new customer service and billing software for Greer CPW.  It will allow Greer CPW departments to communicate better behind the scenes, but the PayGo program will also be the new customer service portal.
Why are we making these changes?
Greer CPW has used the same software system since the 1980s.  The system is outdated and will allow us to streamline our processes and provide a much better customer service experience.
What changes will the customer see?
The first of many changes you (the customer) will see is for any current customer on draft payment.  We need customers to re-enter their credit card and/or bank information in their customer service portal beginning August 5th, 2021.  Log into your account center like you plan to pay a bill and follow the pages.  After a few clicks, you will be re-directed to the PayGo site.
For anyone who is interested in signing up for AutoPay… visit www.greercpw.com and choose the "Account Login" button in the upper right-hand corner.
Additionally, any customer with saved credit card information will need to go into the portal and re-enter their credit card information through PayGo.
Still have questions?  We've created step by step videos that explain how to set up your Customer Service Portal and AutoPay.
I am a current checking/savings draft customer.  How will this impact me?
Starting in early 2022, Greer CPW will work with the bank establishments to automatically convert your account over to PayGo.  No action is necessary from you however if you want to make changes to your account in the future, you must sign up for an online account through Greer CPW and manage your account.
I am a current credit card draft customer.  How will this impact me? 
Starting in early 2022, there will be a deadline where your credit card information will not work with our new payment processor.  To ensure your payment will go through each month, please log into your Greer CPW Customer Service Portal and re-enter your credit card information and sign up for AutoPay.
How do I sign up for AutoPay?
You will need a Greer CPW customer service portal account first.  Visit the website, www.greercpw.com and click the "account login" in the upper right-hand corner of the screen.  You will need your account number and a valid email to begin.  A step by step video detailing how to do this can be found on our website.
How will I know if I am enrolled in AutoPay?
Once logging into your Customer Service Portal, there should be four grey boxes – "Current Bill", "AutoPay", "Power Outage" and "Compare to Previous Year". If AutoPay is enabled, a green box will indicate AutoPay is enabled.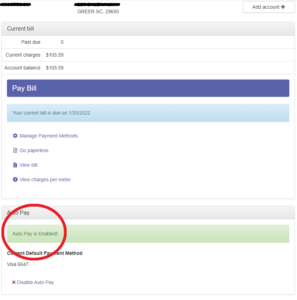 Will my bank statement look any different than before?
Your bank statement will show "Pay*GreerCPW".
What other changes are coming?
In the future, the bill design will look different with a reduced paper size, easier to understand utility usage information and the ability for you to pay your bill through CheckOut – a process that will allow customers to pay their bill at certain retail locations.
Is my financial information safe?
Yes.   These changes will eliminate Greer CPW handling a paper trail of financial information and requires the customer to handle bank account information directly with our new payment processor.
What is the difference between AutoPay and scheduling a onetime payment?
AutoPay is a convenient option that ensures your bill will be paid on its due date to avoid late fees or disconnection.  Once you enter your payment information, whether it's a credit card or bank account, and select the AutoPay option, funds will be electronically transferred each month to pay your bill.
Scheduling a payment requires the customer to manually select the date to have funds taken out to pay your bill.  You can still use a credit card or transfer funds from a bank account however the customer has to log into their Greer CPW account and choose the date each month.
Will I be charged a surcharge or fee if I pay by credit card?
No.  Greer CPW does not charge additional fees or a surcharge if you pay by credit card.
How will this work if I am on an Equal Payment Plan (EPP)?
AutoPay only charges the EPP amount each month.  You'll still need to update your banking or credit card information on the Customer Service Portal at www.greercpw.com if you want to use AutoPay to pay your bill each month.